Tyco reigned as king of '80s slot car racing. It seemed like ever cool track was made by Tyco and it's slogan "By Tyco, of course" matched it's dominance perfectly. I've previously expressed my childhood desire to own one of the high-dollar Tyco tracks like
the Zero Gravity Cliff Hangers
, but Santa never could fit one in his sleigh. It didn't stop me from asking for one each year though and eventually I did get a small figure 8 style track.
But besides the innovative upside down and glow-in-the-dark tracks that I really coveted, Tyco (and other lesser companies) also developed many themed tracks based on popular '80s cartoons and TV shows. In fact, there weren't many testosterone-driven shows that weren't ported into slot car tracks. Some of these track I remember well while others I had no recollection and "geeked out" when I found out they existed.
I've managed to narrow down what I feel were the 11 best tracks of the '80s. If you had one of these as a kid (or still do), I officially hate you...
Transformers Electric Racing (Tyco)
Slot racers that transform into robots while racing and also glow-in-the-dark??!! Yes, please. The only thing uncool about this track was the names of the characters...Matron and Freezon? Yeah, don't remember them in the cartoon.


A-Team Action Racing (Tyco)
The advertising people needed a raise after this commercial. You got live-action footage, that perfect sound effect when the cars spun around, and then the slow-motion jump footage. If I had to rank these in order, this track would've been #1 on the list.
Dukes of Hazzard Racing Set (Ideal)
Every kid's dream was to be one of the Duke boys behind the wheel of the General Lee... and being chased by Sheriff Roscoe P. Coltrane! This was a great track that should've had about three jumps to be equivalent to the TV show.
Thundercats: Race To The Eye of Thundera (Tyco)
This was a track I remember wanting as a kid. It had a little bit of everything: transforming cars, props, and a jump. The only thing I didn't like about it was putting Lion-O in the Thundertank and not Panthro! Details, people, details!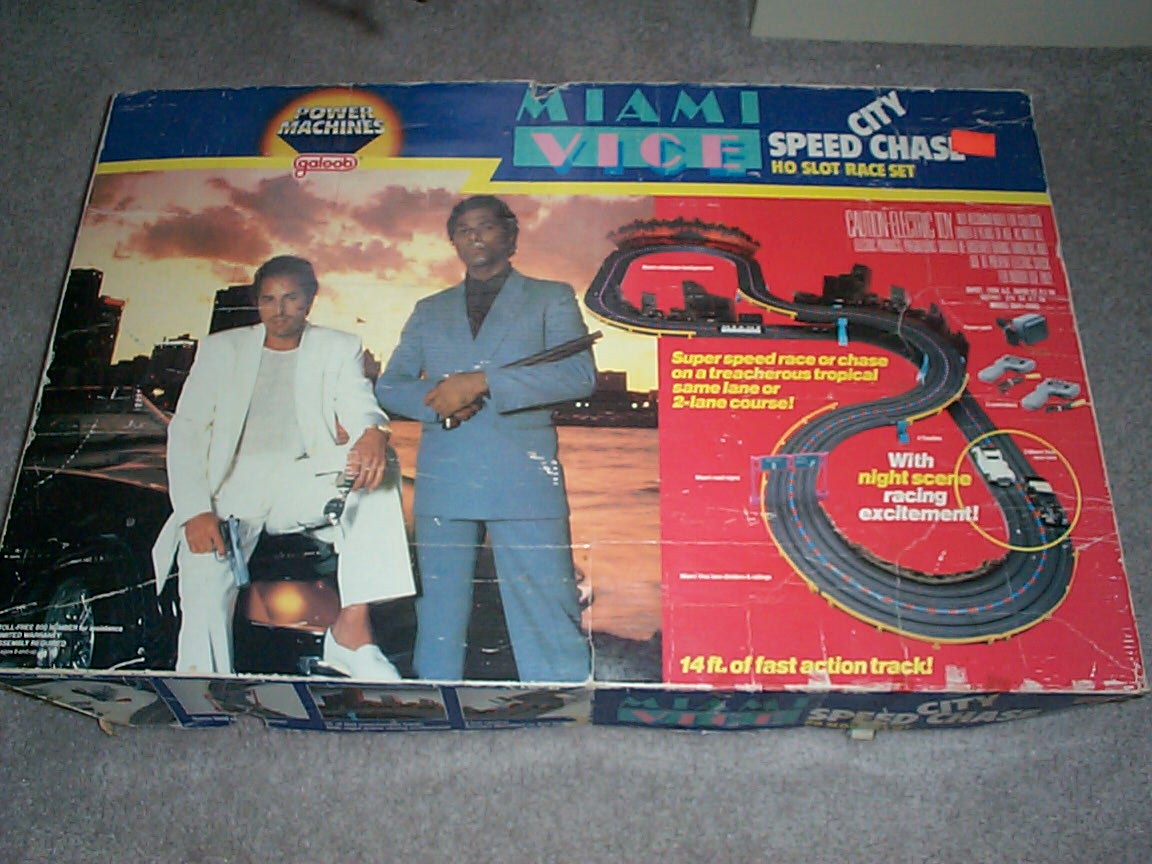 Miami Vice Speed City Chase (Galoob)
I don't remember this track at all, but add it to the list of "adult action heroes marketed to '80s kids." It's hard to tell just from the picture but the track looks pretty cool with the Miami backdrop. But are those limousines racing? Where's the Ferrari love?
Looks similar to the Transformers track above except they used actual characters from the show. The blue track is eye-popping too which makes this track stand out. But again, why did they use Leader-1 who is a jet instead of the red sportscar Turbo?
G.I. Joe Electric High Adventure Trucking (Tyco)
Tyco released two electric sets for G.I. Joe, High Adventure Trucking and the Train and Battle Set (watch video above for both TV ads.) They both came with plenty of green army men and other accessories, but the Trucking set was superior with the G.I. Joe base and Cobra cavern scenery.
I've expressed my love for Street Hawk on many occasions and
the lack of toys in the US
. It seems the kids in Brazil got to enjoy this slot track featuring motorcycles! A simple-looking track, but I don't remember many slot racers featuring bikes.
M.A.S.K. Road Race (Irwin)
"Working headlights and laser cannons"...now there is a toy company that did their homework. It's a little surprising that the "Rhino" semi truck was used instead of the red "Thunder Hawk" Camaro, but I guess they wanted a larger vehicle to bump Jackhammer off the track. (The transforming train set looked pretty cool too!)
Voltron Spin Out In Space (LJN)
Had no idea this existed until I was researching for this list. This track has nice vibrant color and also the same reverse spinning action as the A-Team set above. I wasn't able to find any commercials, but did find
this video that shows it in action
.
Knight Rider Cutoff Challenge (Ideal)
Here's another I had no recollection of featuring K.I.T.T. battling a semi-truck. Very cool concept with many places to switch lanes and even race into a possible head-on collision! The real question is did the "lighted" portion of the track also include K.I.T.T.'s cylon eye?
Images courtesy: eBay UK, Toy Archive, SlotCarSite.Net, Reocities