Whitney Elizabeth Houston
August 9, 1963 - February 11, 2012
(Writers Note: This is my first obituary since I began this site about 4 months ago. I, like most, tend to form my own opinion of celebrities and their personal lives. Of course, the tabloid world doesn't help those opinions, but I hope to forego any speculation and focus more on fact. I like to view myself more as an 80s historian and would rather reflect on the impact of famous people like Whitney on my own life.)

According to her publicist, Whitney Houston was found dead Feb 11 at the Beverly Hilton Hotel at 3:55 PM local time. She was reportedly staying at the hotel in preparation for the Grammy Awards on Feb 12. She was truly an amazing talent and had one of the most successful music recording careers in history. From 1985 to 2009, all eight of Houston's studio and soundtrack albums would reach platinum status (one million copies sold) in the United States. She received 2 Emmys, 6 Grammys, 22 AMAs, and 30 Billboard music awards of the 415 total awards over the course of her music career. Sadly, her personal struggles over the past 10 or so years, seemed to overshadow her accomplishments in music.
Truthfully, I was never really a "fan"of Whitney Houston. I remember my mother frequently playing
"I Want To Dance With Somebody"
on our stereo in 1987. She played it so often that I also remember trying to bury it in the back of our record cabinet. Can you blame an eleven year old boy for doing that though? Then next time I remember trying to avoid Whitney's music was in high school, when the
Bodyguard
soundtrack was released. I remember frequently cringing and cursing the local radio station for seemingly playing her
I Will Always Love You
remake every hour. I also remember hearing, while listening to one of the top 40 shows, that it broke the record for weeks at the #1 spot. (It spent 14 weeks atop the Billboard charts, a record at the time.) As I formed my love for music and wanted to pursue a career in radio broadcasting in high school and college, I grew to respect Whitney's music career.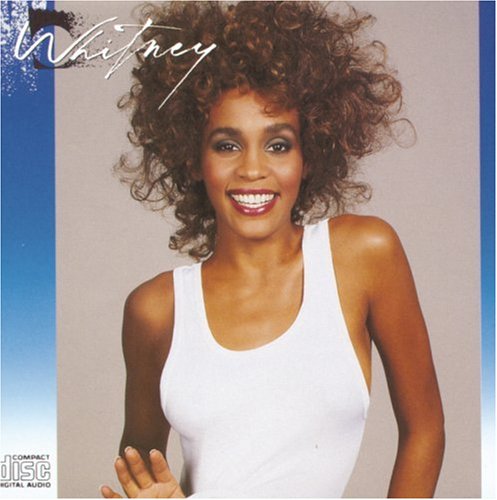 Looking back, it's easy to see why she was so successful. Her mother Cissy was a gospel singer and cousins to singers Dionne and Dee Dee Warwick. Her godmother was the "Queen of Soul" Aretha Franklin. With those influences, she began singing solos at age eleven in her church. Just 4 years later, she would be singing backup on albums for Lou Rawls, Chaka Khan, and Jermaine Jackson. In 1983 at 20 years of age, she would sign her first recording contract with Arista after she made an impression on avid record producer Clive Davis. Her 1985 debut album
Whitney Houston
would win her first Grammy, AMA, and MTV Video Music Award.
Her performance at the Grammy Awards
show would win her an Emmy. In 1987, her follow up album
Whitney
would debut at #1 on the Billboard charts, a first for a female artist, and also simultaneously debut at #1 in the UK, another first. In 1991, she won the hearts of all Americans with her rendition of
the US national anthem at Superbowl XXV
. It was so highly regarded, it was released as a single and video. She donated all profits to the American Red Cross and her
Welcome Home Heroes
concert later that year broke ratings records on HBO.

She married Bobby Brown in 1992 and also starred in her first film The Bodyguard with Kevin Costner. The soundtrack album would essentially outperform the film and sell more than 17 million copies in the US and 44 million worldwide. With its success, she remains the sole female on the worldwide top ten best selling album list.The following year, Whitney would give birth to her only child, a daughter named Bobbi Kristina Houston Brown. Her success would continue throughout the 90s in music and film, appearing in Waiting To Exhale and The Preacher's Wife. They would both have successful soundtracks, leading up to her Greatest Hits release in 2000.
Among drug rumors and an erratic scheduling behavior, Whitney's 5th album Just Whitney performed well on the charts in 2002. She would later join her husband in the reality show Being Bobby Brown in 2004, which would get high ratings on the Bravo network despite critical reviews. In 2006, Whitney would separate from Bobby and finalize a divorce in 2007. That same year, she announced that she would begin working on a new album. I Look To You was released in 2009 and would debut at the top position on the Billboard chart. At the time of her death, Whitney was scheduled to produce and star in a film entitled Sparkle.
Whitney Houston will live on in our music collections...hundreds of millions of collections. Her music legacy is one that many music artists will surely pay homage to this week. Personally, I will be taking the time this week to figuratively find that 45 record from the back of my cabinet and rediscover her discography. I hope you will as well, whether you are a fan or not. Her mezzo-soprano voice is truly one that will never be matched again.