Welcome to another edition of The Weekly Links, your weekly source for the best '80s content on the web! It's been a relatively quiet week on the site, but I've got a couple things cooking behind the scenes including some comic book reviews.
I just discovered today that
Masters of the Universe
and other '80s cult classic films are on the
Paramont Vault YouTube channel
! I've idenitfied several that will be on my upcoming watch list. The 30th anniversary of Cocoon is this weekend and I decided to breakdown
the music video for the soundtrack song "Gravity" by Michael Sembello
earlier this week. It's a crazy video that I had not remembered watching so it was fun trying to make sense of it. The next Smurf movie
Get Smurfy
was also in the headlines this week with Sony Pictures announcing some new voice actors for the animated film.
The video of the week in my eyes was watching Seth McFarlane sing a couple classic Cyndi Lauper tracks as Stewie and Peter Griffin from Family Guy. I've never been a huge fan of the show and have only watched a handful of episodes but the fact that his performance was along side Lauper made it very funny.
"Seth MacFarlane Sings Cyndi Lauper's Greatest Hits As Stewie and Peter Griffin"
by the Graham Norton Show
Enjoy the rest of this week's links!!!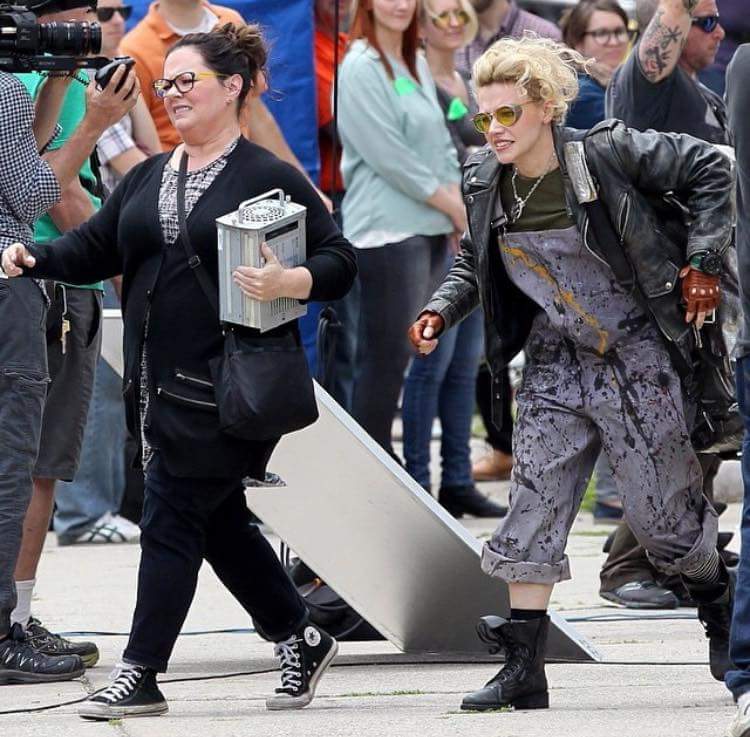 Ghostbusters: first pictures from set of new film
- Den of Geek
The plot of the new Ghostbusters sounds a lot like the first Ghostbusters
- A.V. Club
New Featurette Explores the '80s Video Game World of Pixels
- ComingSoon.net
R.I.P. Rick Ducommun, comedian and co-star of The Burbs and Groundhog Day
- A.V. Club
Arnold Schwarzenegger Surprises Fans by Going Undercover in Hollywood as the Terminator
- Laughing Squid
From 'Vice Versa' To 'Big': We Ranked Every '80s Body-Swap Movie
- UPROXX
Can You Name The '80s Movie From A Pixelated Scene?
- BuzzFeed
Emma Stone turned down a role in the new Ghostbusters
- A.V. Club
'80s Movie Style: Tootsie
- Mirror80
11 Incredible Secrets About The Making Of Back To The Future
- io9
Top 10 Romantic Movies of the '80s
- Beliefnet
Whats the best werewolf movie of the 1980s?
- HitFix
Original 'Star Wars' Trilogy Screens in China for First Time Ever
- Yahoo! Movies
12 Things You Didn't Know About the Honey, I Shrunk the Kids Trilogy
- Pop Rewind
'Raging Balls of Steel Justice' Offers 80s Action Overload in Claymation Form
- Strange Kids Club
John Carpenter doesn't really care about the Big Trouble In Little China remake
- A.V. Club
15 Major Facts About 'Bull Durham'
- Mental Floss
'Gremlins 2: The New Batch' Turns 25: A Deep, Slimy Dive Into the Cult Classic
- Yahoo! Movies
Remake Of Classic Sci-Fi Romance "Starman" In The Works From Sony
- Tracking-Board
Ten '80s Cartoons that Deserved More Than One Season
- GeekDad
7 of the Worst Shows of the 1980s
- The Cheat Sheet
17 Times Danny Tanner Was The Coolest Dad On The Planet
- BuzzFeed
Winona Ryder. Netflix. 1980s Ghost Story. Yes, Please.
- Bloody Disgusting
Schoolhouse Rock Rocks!
- Like Totally 80s
Let's Settle This Once And For All: AC Slater Or Zack Morris?
- BuzzFeed
Captive Audiences: 1981 Television Commercials
- Flashbak
5 Things We Learned from Paul Reubens on 'Bullseye with Jesse Thorn'
- Mental Floss
13 Things You Might Not Know About 'Diff'rent Strokes'
- Mental Floss
Duran Duran Announces New Album Title, Tour Dates
- Billboard
Eddie Van Halen Would Like David Lee Roth To Finally Grow Up
- UPROXX
Journey Will Play With New Drummer Following Arrest
- Billboard
Readers' Poll: The 10 Best Bob Dylan Songs of the 1980s
- RollingStone
Going Solo: Steve Perry
- Return of the 80s
Alternative Press Magazine Celebrates 30 Years with a special exhibit at the Rock Hall
- Rock Hall Blog
George Michael Checks Into Rehab To Treat 'Marijuana Addiction'
- UPROXX
Seven Times Video Game Cover Art Lied To Gamers
- Neatorama
11 'Bomberman' Facts That Will Blow You Away
- Mental Floss
Super Mario Maker is the perfect playground for sadists
- Polygon
Inside The Time Trap Arcade
- Retro Gamer
Guy Performs Beautiful Zelda Themed Piano Medley
- Geekologie
Sarah Jessica Parker Jordache Look Announcement
- Refinery29
1980s Wedding Trends Are Making a Comeback
- ABC News
Even He-Man Has A Comic Book Multiverse Now
- io9
NECA: Christopher Reeve Superman 1/4 Scale Action Figure Shipping This Week
- Cool Toy Review
The '80s Marvel Super Heroes RPG Was Class 5000 Awesome
- io9
1984: The Year We Peaked
- The Fwoosh
19 Ads That Relive Gap's Glory Years
- BuzzFeed
Back To The Future 30th Anniversary Minimates Hill Valley Box Set
- Toy News International
A Life-Sized Terminator Can Be Yours, For Just $7,000
- io9
8 Honest Names for 1980s Toys
- HowToBeADad
Peel Here #118: The Exhaustive Selectra Horror Prism Vending Stickers edition!
- Branded in the 80s