Rank 'Em returns for another round of 1984's best! Each Friday in February, I'll be debuting a new top 5 list (along with a new RD80s guest) that will celebrate the 30th anniversary of 1984. This week's topic was our favorite thing to watch on a Saturday morning with a bowl of cereal...cartoons!
1984 was an epic year for 'toons, featuring the debut of several animated shows that us children of the '80s hold in high regard to this day. It saw the rise of robots, transforming robots, and robots that transformed into a larger robots. But 1984 wasn't all about metal...baby muppets, underwater Smurf-like creatures, and junkyard cats also ruled the airwaves. Little girls also flocked to their TV sets to catch a glimpse of little ponies and a blonde in a rainbow dress.
I've manged to pull together a playlist of 15 cartoon intros on YouTube to jog your animated memory banks. It's 15 minutes of nostalgia that I guarantee you'll enjoy...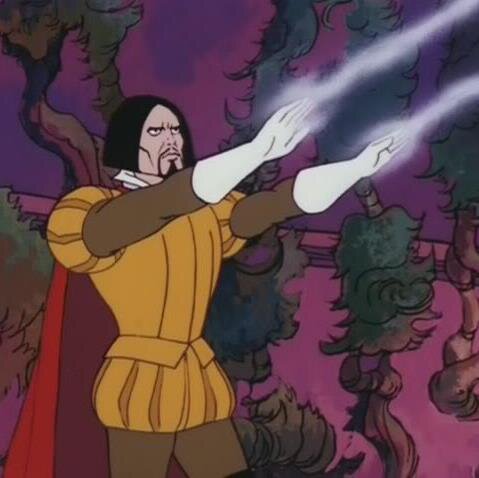 To help me rank the best animated shows that debuted in 1984, I've brought along the mysterious and powerful sorcerer known as Count Marzo! This "nostalgiholic" shows his love and knowledge for '80s animation from
his Twitter account
everyday. He doesn't host a blog or website, but whoever said you needed one of those to have a good time, right? He's a great guy to have in your '80s circle so I invite everyone to go follow him on Twitter.
I've compiled a lengthy list of shows below, but if I missed one of your favorites that debuted in 1984, feel free to add it to your list. Let's Rank 'Em!!!
RANK 'EM!
Top 5 Cartoons Released in 1984
Transformers
Voltron
The Might Orbots
Challenge of the Gobots
The New Scooby Doo Mysteries
Rainbow Brite
My Little Pony
Muppet Babies
Heathcliff and the Catillac Cats
Turbo Teen
Pole Position
The Snorks
The Get Along Gang
Kidd Video
Danger Mouse
Dragon's Lair
Punky Brewster


Count Marzo's List
Transformers
Voltron
My Little Pony
Muppet Babies
Heathcliff and the Catillac Cats
Hasbro's juggernaut of a cartoon/toy franchise which has been going strong ever since with a crazy amount of animated series' and transforming robot toy lines. Optimus Prime and the Autobots vs. Megatron and the Decepticons! No contest Transformers is the #1 cartoon out of 1984. From days of long ago, from uncharted regions of the universe, comes a legend. The legend of Voltron! Voltron just about ran 1984 when it came to cartoons. Watching it today just takes me back. It is VERY 1980s and that is a VERY good thing which I'm sure we can all agree on. Now it's Hasbro's girl-oriented juggernaut of a cartoon/toy franchise which exploded in recent years with the "Brony" internet phenomenon. My Little Pony only had a special in 1984 (Rescue at Midnight Castle), but quickly grew steam in the following years of the mid-80s and is extremely popular today. Everyone loves Jim Henson's work whether it's actual Muppet puppets or animation. Muppet Babies was great when it came to music, parodies, and old clips of television inserted into the cartoon. The bad part is this causes problems for a potential and proper DVD release (See WKRP in Cincinnati). This makes me sad. :-( With a theme song like Heathcliff's, it was hard not to get hyped up for this cartoon back then. This time, instead of Marmaduke or Dingbat, Heathcliff got the Catillac Cats which were a great addition.
Honorable mentions:
Challenge of the GoBots
(my personal 1984 favorite),
Rainbow Brite
, and
Snorks
.
Jason's List
Voltron
Transformers
Challenge of the Gobots
Muppet Babies
Turbo Teen
I chose my Top 5 based on how many memories I have associated with watching the shows as a kid. I went back and forth on the #1 and #2 position for awhile but in the end I decided to go with
Voltron
. The reason I choose it is the diecast toy that I still own from my childhood. I never had many Transformers so the mere fact that I have the Voltron to this day means I enjoyed it the most in 1984.
Transformers
did have a lasting impression on me as well. I remember watching the series religiously and then the 1985 movie in the theater (and being overwhelmed by the death of Optimus Prime. SPOILER!!) A very close third is
The Challenge of the Gobots
. I even considered a tie between them and the Transformers, that's how much I enjoyed the franchise. I had several of the toys and the large Command Center as a kid which again proves how much I revered the show. I remember watching
Muppet Babies
on Saturday mornings and enjoyed it as much as watching
The Muppet Show
or the Muppet movies. Just something about those characters even to this day that is special and transcends generations. For a show that only lasted 13 episodes, I have vivid memories of watching
Turbo Teen
. Maybe it was just the image of Brett's smile becoming the grill of the Turbo Teen car that stuck with me, but the show was just radical concept to me.
Now it's your turn to share your Top 5! Post your Rank Em list in the comments below to voice your opinion. Also, drop an email to jason@rediscoverthe80s.com if you have an idea for a future topic and would like to be the guest ranker.
If you want to catch up on previous Rank 'Em lists, visit the
Rank 'Em Archive
. Never too late to post your list!