13 Best Novelty Drinking Glass Sets Of The '80s
Novelty drinking glass sets have been used as promotional items for a long time. Many fast food restaurants throughout the '80s used these collectibles to lure customers into their establishment...and it worked. I remember collecting a couple sets as a kid including the Garfield glass mugs and Alvin & The Chipmunks drinking glasses. Also had a few stray glasses in the cabinet that never met their companions featuring characters like E.T. and the Smurfs.

After doing a little digging on Flickr, I decided to designate what I believe are the 13 best sets distributed in the '80s. So raise a glass (carefully, as to avoid knocking over your styrofoam container) and lets toast some great fast food memories. Cheers!


Goonies from Godfather Pizza (1985)


Great Muppet Caper from McDonald's (1981)


Camp Snoopy from McDonald's (1983)


Smurfs from Hardee's (1982)


Empire Strikes Back from Burger King (1980)
Return of the Jedi from Burger King (1983)


Indiana Jones & The Temple of Doom distributed by 7-Up (1984)
Ghostbusters 2 from Sunoco (1989)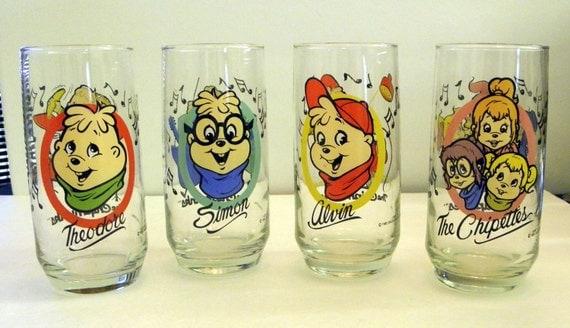 Alvin & The Chipmunks from Hardees (1985)


He-Man & the Masters of the Universe from ??? (1986)


Garfield from McDonald's (1987)
Photos courtesy Flickr users Brendan Lynch, John Hurrey, OhChiik, Paxton Holley, Tokkie Pokie Puddin 'N Pie, Dave Nimitz, Jimmy Tyler, Pyrexboy78, & RetroJunk.Com